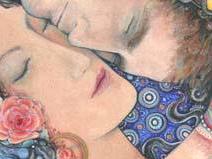 MoonShine Limited Edition Etching
This is a beautifully detailed etching of a Moon's face by Liza Paizis.

This is an original, collectible piece of art and is produced entirely by hand through my etching press.

~ I Love looking at a full Moon, and this is what I see....
The print measures 10cm x 6.5cm (3 3/4 x 2 1/2 inches)

This is number 5 in an edition of 20, with subtle gold highlights.
Paper measures 17.5cm x 13.5cm (6 1/2 x 5 1/4 inches) and is heavyweight cream Stonehenge paper.
~ Very inspired by Arthur Rackham's children's book illustrations - I adore his whimsical and evocative work.

The print will be sent flat with acid-free foamcore backing, in a plastic sleeve and very well protected.

-All my etchings come signed,titled and numbered in pencil on the front, along with details of editioning and states on the back.


~ Please read my Shop & Shipping Policies for more info ~





mermaid and fairy art nature fantasy romantic inspirational symbolist art with dragonfly butterfly cat owl art and jewelry designs for exclusive artisan gifts.