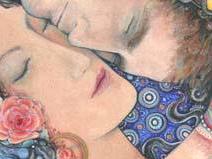 Night Owls limited edition owl etching print by Liza Paizis
This a beautifully rendered etching of three little owls beneath a full orange moon.

This is an original, collectible piece of art and is produced entirely by hand through my etching press.

Owls are such enigmatic animals and I could not resist doing this quirky etching of a family of insomniacs!

This listing is for a limited edition etching and aquatint from an edition of only 35 prints in black ink state.
The picture seen here is an example of the kind of print you can expect to receive; each one has been uniquely hand coloured and printed so no two are the same.
The print itself measures 16cm x 12cm (6 1/2 " x 4 1/2 ") and the paper size is approximately
The paper size is 11 x 9 3/4 inches (28cm x 24.5cm)
The paper is acid-free handmade mulberry bark paper with a lovely silky surface texture.
I have handcolored it with watercolor which really highlights the lovely nocturnal ambiance of this piece.

-All my etchings come signed, titled and numbered in pencil on the front, and have details of editioning and states on the back.
It is packaged with a protective plastic sleeve and acid free foamcore backing. It will be sent flat and very well protected.


~ Please read my Shop & Shipping Policies for more info ~


mermaid and fairy art nature fantasy romantic inspirational symbolist art with dragonfly butterfly cat owl art and jewelry designs for exclusive artisan gifts.