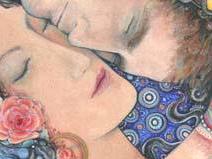 Art Nouveau Dragonfly bracelet statement jewelry dragonfly bangle
This is a stunning Dragonfly bracelet in lead free pewter from an original dragonfly design that has been cast from my own wax carving.
This lovely and unique dragonfly jewelry is inspired by the Art Nouveau period.

• It features large dragonfly on an adjustable sturdy chain to fit most wrists.
• The Dragonfly measures 7.5 cm x 4 cm (3 inches x 1 5/8 inches) plus the chain making the bracelet
approx. 8.5 inches (21cm) in total.
• It has a parrot clasp for closure and is finished with a little silver star finding.
• The Dragonfly has a gentle curve which fits beautifully around the writst as seen in the photos.
• Perfect gift for a dragonfly lover!


mermaid and fairy art nature fantasy romantic inspirational symbolist art with dragonfly butterfly cat owl art and jewelry designs for exclusive artisan gifts.