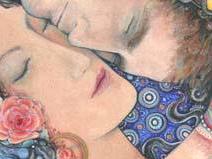 Art Nouveau Fairy Necklace Fairy statement choker
This is a beautifully detailed Art Nouveau style fairy statement necklace. It has been cast in lead-free pewter from a vintage fairy design.

• This gorgeous piece is cast in shiny lead-free pewter with a patina to bring out the stunning detail.
• The vintage replica Art Nouveau Fairy measures 5.5cm x 5.5cm (2 x 2 inches)
• It has an adjustable style curb chain measuring approx. 19 inches in total
• It is finished with a parrot clasp and a little silver star.
• Please click on the thumbnails below to view details of this necklace.
• This piece will not tarnish - to renew the pewter's natural shine rub gently with a silver cloth.

mermaid and fairy art nature fantasy romantic inspirational symbolist art with dragonfly butterfly cat owl art and jewelry designs for exclusive artisan gifts.