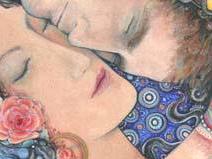 Koi Fish lotus flower Zen earrings with fish flower charms
Gorgeously detailed Koi fish with Lotus flower earrings in silver tone and black patina in an Art Nouveau style.

• The round earrings measure 1/2 inch in diameter (1.5 cm x 1.5cm))
• Earring hooks are nickel-free for sensitive ears
• All my earrings come wrapped and carefully packaged, ready for gifting.

The koi fish has a powerfully energetic life force, demonstrated by its ability to swim against currents and even travel upstream. Some of the characteristics associated with the koi include:

Good fortune
Success
Prosperity
Longevity
Courage
Perseverance

mermaid and fairy art nature fantasy romantic inspirational symbolist art with dragonfly butterfly cat owl art and jewelry designs for exclusive artisan gifts.