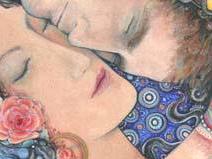 Lizard gecko bracelet pewter lizard artisan jewelry SALE
This is an elegant lizard or gecko bracelet made in lead-free pewter from an original design by Liza Paizis.

• This exclusive piece of lizard jewellery features a gecko on an adjustable sturdy chain to fit most wrists.
• The lizard measures 2 1/2 x 1 inches (6.5 cm x 2.5 cm) plus the chain making it 8 inches in total.
• It has a parrot clasp for closure and is finished with a little silver star finding.
• The Art Nouveau style lizard has a gentle curve which fits beautifully around the writst as seen in the photos below.
• This lead-free piece will not tarnish - to renew its natural shine just rub gently with a silver cloth.



All original jewelry designs © LizaPaizis.com


mermaid and fairy art nature fantasy romantic inspirational symbolist art with dragonfly butterfly cat owl art and jewelry designs for exclusive artisan gifts.