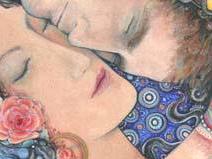 Lizard Gecko Necklace Art Nouveau style lead free pewter SALE
This gorgeous Lizard / Gecko necklace has lovely detail and movement characteristic of the Art Nouveau style. A beautiful statement necklace made with lead free pewter from an original design by Liza Paizis.

• Its length is adjustable and the lizard measures 6.5 cm x 2.5 cm (2 1/2 x 1 inches)
• The unique bars on each side sit beautifully on the neck in a choker style as seen in the photos below.
• The bars measure 6.2 cm ( 2 3/8 ") each, plus the nickel-free chain making the overall length of the necklace 50cm (20 inches).
• It is an adjustable style chain - so one size fits all!
• It is finished with a parrot clasp and a little silver-tone charm.
• This lead-free piece will not tarnish - to renew its natural shine just rub gently with a silver cloth.

Please click on the thumbnails below to view details of this necklace.





mermaid and fairy art nature fantasy romantic inspirational symbolist art with dragonfly butterfly cat owl art and jewelry designs for exclusive artisan gifts.