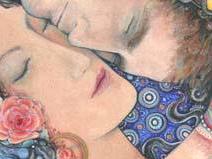 Lizard Gecko pendant charm necklace SALE
This is a beautifully detailed lizard gecko pewter pendant necklace designed by Liza Paizis.

• This gorgeous piece has lovely detail and movement characteristic of the Art Nouveau style and has been cast in high polish lead-free pewter from my original design.
• The lizard measures 6.5 cm x 2.5 cm (2 1/2 x 1 inches)
• It comes on a real leather thong with a beautiful Art Nouveau style bail connector as seen in the photos.
• The leather cord measures 16 inches with a 2 inch extensions chain, plus a little charm to finish it off


* This lead free pewter does not tarnish - just rub with a silver cloth occasionally to enhance its natural shine *





mermaid and fairy art nature fantasy romantic inspirational symbolist art with dragonfly butterfly cat owl art and jewelry designs for exclusive artisan gifts.