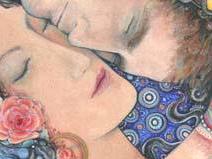 Mermaid Keyring keychain original artisan mermaid jewelry sculpture
This is a beautifully detailed Mermaid keychain or keyfob designed and crafted by Liza Paizis.

-I love creating anything to do with mermaids - and this delightful keyring has been cast in shiny lead-free pewter from my original wax carving.
It is also signed on the back with my name.

She measures 6 cm x 3 cm (2 1/4 inches x 1 1/8 inches) plus a keyring on a sturdy chain as seen in the picture.

This piece will not tarnish - to renew its lovely natural shine just rub gently with a silver cloth.






mermaid and fairy art nature fantasy romantic inspirational symbolist art with dragonfly butterfly cat owl art and jewelry designs for exclusive artisan gifts.