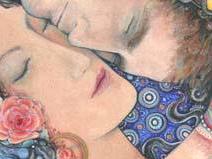 Mermaid pendant necklace small silver pewter mermaid charm
This is a beautifully detailed mermaid pendant necklace with a gorgeous double sided mermaid different on each side.
An original handcafted pewter mermaid pendant Art Nouveau style design from an original creation by Liza Paizis.

-I love creating mermaids - and this delightful double-sided mermaid charm has been cast in shiny lead-free pewter from my original wax carving.

• The mermaid measures 1 1/2 x 1/2 inches (3cm x 2cm) with amazing detail in both different mermaids as seen in the thumbnails below.
* She comes on a 17 inch chain with a parrot clasp.
• This lead-free pewter mermaid will not tarnish - to renew its lovely natural shine just rub gently with a silver cloth
• A unique original mermaid gift for any mermaid lover!




mermaid and fairy art nature fantasy romantic inspirational symbolist art with dragonfly butterfly cat owl art and jewelry designs for exclusive artisan gifts.