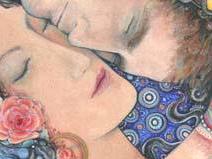 Pixie Elf brooch or pin goblin badge SALE
This whimsical Elf brooch is inspired by the faery art of Arthur Rackham and Brian Froud and has been cast in shiny lead-free pewter from my original wax carving of a pixie spirit.

• The little pixie measures 6.5 cm x 3.5 cm (2 1/4 inches x 1 1/4 inches)
• This gorgeous piece of fairyland is perfect for embellishing your favourite item of clothing, or as a special gift for a faery lover.

• The clasp on the back is a roller catch fastener providing extra security. It also has my signature on the back.

• This lead-free pewter does not tarnish - gently rub with a silver cloth to renew its natural shine.




mermaid and fairy art nature fantasy romantic inspirational symbolist art with dragonfly butterfly cat owl art and jewelry designs for exclusive artisan gifts.