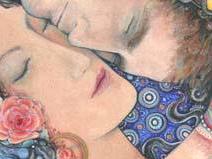 Dryad tree spirit original painting tree goddess art by Liza Paizis
This is a beautifully detailed original watercolor, pen & ink painting of a Dryad tree spirit or tree goddess by Liza Paizis.

-The tree is a very powerful symbol in many cultures' mythology. This Dryad from Greek mythology symbolises feminine power, and our unity with Nature. There are many delightful spirits hidden in the tree if you look closely !
....please click and zoom on all the thumbnails to enjoy the wonderful expression and detail of this painting.

• It is painted with watercolour and oil pastel on speciality acid free Bockingford watercolor board.
• It measures 14 x 10 inches
• All my original artwork is shipped flat and very well protected with a certificate of authenticity.


~ - Kindly be aware that computer monitors vary with colour display and the colours you see may differ slightly from the original artwork - ~
Feel free to contact me with any questions you may have regarding this original piece of artwork!



mermaid and fairy art nature fantasy romantic inspirational symbolist art with dragonfly butterfly cat owl art and jewelry designs for exclusive artisan gifts.