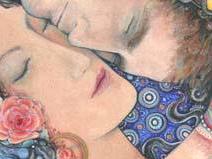 Mermaid Original Fantasy Painting in watercolor of a singing Siren and the Sea...
This is an original and beautifully detailed watercolor and oil pastel painting of a dreamy mermaid by Liza Paizis.

~ Painting mermaids is a fascination of mine, and has been since I was a child. Sensual, magical water beings, they offer so much to the imagination of the artist wishing to capture their elusive beauty. Mermaids are for me the ultimate union of humans and nature- the beautiful maiden with a fish's tail appears in many cultures throughout time.

This delicately expressive painting is painted on rough Bockingford watercolor paper and measures 20cm x 27.5cm (8 x 10 3/4inches)

This painting was inspired by the Nick cave words:
"Keep your candles burning
that he will keep returning
Always and evermore
into my arms..." (Nick Cave)

She sings her song of longing to her lover across the waves....please click on all the thumbnails to enjoy the detail of this painting.

It comes presented with an ivory mat and protective acid free foamcore backing, and it sent in a protective plastic sleeve.
All my artwork is shipped flat and very well protected.

~ Feel free to contact me with any questions you may have regarding this original piece of artwork! ~

*******************************************************************************************************
-please be aware that computer monitors vary with colour display and the colours you see may differ slightly from the original artwork.




mermaid and fairy art nature fantasy romantic inspirational symbolist art with dragonfly butterfly cat owl art and jewelry designs for exclusive artisan gifts.