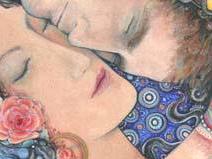 Mermaids Dream original painting of a mermaid and her lover SALE
This is a beautifully detailed original watercolour painting of a mermaid dreaming of her lover under the sea....please click and zoom on all the thumbnails to enjoy the wonderful flow and expression of this original painting.

-I love painting mermaids and especially am intrigues by mermaids and their lovers....is she dreaming here, or really with her love?

• This original painting measures 14 x 10 inches (36cm x 27cm)
• It is finely detailed with brush and linework and has been painted on beautiful smooth ivory Stonehenge paper.
It is packaged in a protective plastic sleeve and carefully rolled in a hard cardboard tube for shipping.
• Bargain - priced to sell as this was a meditation / experimental painting that turned out beautifully !



~ - Kindly be aware that computer monitors vary with colour display and the colours you see may differ slightly from the original artwork - ~
Feel free to contact me with any questions you may have regarding this original piece of artwork!



mermaid and fairy art nature fantasy romantic inspirational symbolist art with dragonfly butterfly cat owl art and jewelry designs for exclusive artisan gifts.