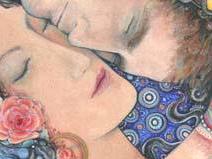 Merrow Kiss Original Watercolor Painting of a mermaid and her lover by Liza Paizis
This is an original, beautifully expressive watercolor painting of a mermaid embracing her lover, whilst carrying him to the depths below.......please click and zoom on all the thumbnails to enjoy the wonderful flow and delicacy of this ethereal painting.

"A Mermaid found a swimming lad,
Picked him for her own,
Pressed her body to his body,
Laughed; and plunging down
Forgot in cruel happiness
That even lovers drown" W.B Yeats

-A Merrow is a gentle Irish mermaid, who has a fondness for fishermen.
The poem quoted is by my favourite poet, Irishman W.B Yeats.

This painting was a joy to do -I meditated upon the folklore of Ireland which is a constant source of inspiration, and slowly this image of the water-bound seductress and her catch emerged. I like the flow and subtlety of it - I think it is one of my favourites!

It is painted on Stonehenge watercolour paper, and measures 27cm x 20cm (10 3/4 x 7 3/4 inches)

It is presented with an acid free ivory mat, and is packaged with acid-free foamcore backing and a protective plastic sleeve.
All my original artwork is shipped flat and very well protected with a certificate of authenticity.


~ - Kindly be aware that computer monitors vary with colour display and the colours you see may differ slightly from the original artwork - ~
Feel free to contact me with any questions you may have regarding this original piece of artwork!




mermaid and fairy art nature fantasy romantic inspirational symbolist art with dragonfly butterfly cat owl art and jewelry designs for exclusive artisan gifts.