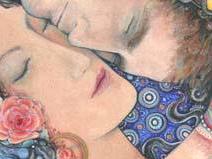 Owl Spirit original framed owl totem painting
This is unique Owl original painting in watercolors, pencil and crayonis framed and ready to hang.

• This evocative painting depicts a mystical Owl totem spirit, done in shades of subtle blues, pinks and whites.
• It has been painted on canvas board and triple glazed with sealant.
• It comes in a simple faux-wood frame, ready to hang,
• It measures 10 x 12 inches.
• No glass as it is on sealed glazed canvas board.
• Please see the photos for details.
• It will be shipped carefully in a cardboard box.

A beautiful gift for any owl lover!


~ - Please note that computer monitors vary with colour display and the colours you see may differ slightly from the original artwork -

mermaid and fairy art nature fantasy romantic inspirational symbolist art with dragonfly butterfly cat owl art and jewelry designs for exclusive artisan gifts.