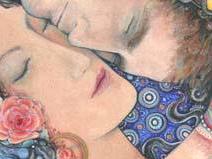 Tree Spirits Original Painting of Lovers in watercolor
This is an original, beautifully detailed watercolor and gouache painting of two embracing lovers entwined in a Tree of Life....please click and zoom on all the thumbnails to enjoy the wonderful expression and detail of this painting.

"Two Lovers entwined growing as one.."

~ This wonderfully ethereal yet earthy painting expresses the powerful love that connects two people, like two trees growing together. If you look closely you will see that they have delicate faerie wings dissolving into the green around them.

It is painted on smooth Stonehenge ivory watercolour paper, and measures 24cm x 33cm (9 1/2 x 13 inches)

It is presented with an acid free ivory mat, and is packaged with acid-free foamcore backing and a protective plastic sleeve.
All my original artwork is shipped flat and very well protected with a certificate of authenticity.


~ - Kindly be aware that computer monitors vary with colour display and the colours you see may differ slightly from the original artwork - ~
Feel free to contact me with any questions you may have regarding this original piece of artwork!



mermaid and fairy art nature fantasy romantic inspirational symbolist art with dragonfly butterfly cat owl art and jewelry designs for exclusive artisan gifts.