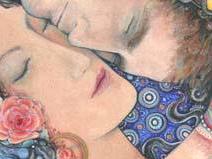 Daisy Chain Limited Edition Etching of Dasiy Fairies and flowers SALE
This is a detailed Art Nouveau inspired Limited Edition Etching of daisy sprites by Liza Paizis.

This is an original, collectible piece of art and is produced entirely by hand through my etching press.

-Another Aubrey Beardsley inspired piece with gorgeous flow and detail - please click on the thumbnails to have a closer look!

• The print itself measures 14.5cm x 8cm (3 1/4 x 5 3/4 inches)
• This one for sale is a unique print in that it is a one of a kind in coloring
• The paper is a beautiful Japanese hand made mulberry bark paper with a lovely silky smooth surface.
• It is transparent to a degree and very delicate.
Paper measures approximately 17m x 21cm (6 3/4 x 8 1/4 inches) and is 400gsm
• This print has been delicately handcoloured with watercolour highlights as seen in the close up thumbnails
• You will receive exactly the print you see in this listing

• The print will be sent flat with acid-free foamcore backing, in a plastic sleeve and very well protected.
• All my etchings come with title and number and signature on the front in pencil, as well as details of states and edition on the back of the packaging.



~ Please read my Shop & Shipping Policies for more info ~




mermaid and fairy art nature fantasy romantic inspirational symbolist art with dragonfly butterfly cat owl art and jewelry designs for exclusive artisan gifts.