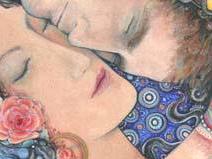 The Gift Limited Etching Art Deco style
This is beautifully unique Art Deco style Etching by Liza Paizis.
This is an open edition, original, collectible piece of art and is produced entirely by hand through my etching press.

The print itself measures 3cm x 15cm (1 x 6 inches) and has a wonderful collage of coloured tissue paper in sections.
The paper measures approximately 11.5cm x 20.5cm (4 1/2 x 8 inches) and is medium weight Bockingford watercolour paper.

The print will be sent flat with acid-free foamcore backing, in a plastic sleeve and very well protected.
All my etchings come with title and number and signature on the front in pencil, as well as details of states and edition on the back of the packaging.


~ Please read my Shop & Shipping Policies for more info ~




mermaid and fairy art nature fantasy romantic inspirational symbolist art with dragonfly butterfly cat owl art and jewelry designs for exclusive artisan gifts.