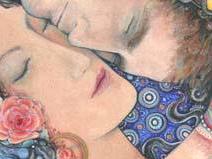 The Stolen Child Limited Edition etching fairy child etching WB Yeats
A uniquely original limited edition etching and aquatint of a Fairy child surrounded by pixies and goblins and toadstools, by Liza Paizis.

This is an original, collectible piece of art and is produced entirely by hand through my etching press.

This etching was inspired by the haunting W.B Yeats poem "The Stolen Child" which is about a little baby who has been spirited away into Faerieland.

• It is Number 3 in an edition of only 3 in Maroon state.
• Lovingly hand-coloured with watercolor and gouache and is a one-off in its colouring - deep rich maroons and violets.
• The print measures 18.5cm x 13.2cm (7 1/4 x 5 1/4 inches).
• The paper is archival medium weight ivory Bockingford paper measuring 24.5cm x 21.5cm (9 1/2 x 8 inches)

• All my etchings come signed,titled and numbered in pencil on the front, along with details of editioning and states on the back.
• The print is packaged with acid-free foamcore backing, in a plastic sleeve. It will be sent flat and very well protected.

• Please be aware that computer monitors vary with colour display and the colours you see may differ slightly from the original artwork.


• It also comes with the following verse from the beautiful poem which inspired it:

"Come away, O human child!
To the waters and the wild
With a faery, hand in hand,
For the world's more full of weeping
Than you can understand…."
W.B Yeats



~ Please read my Shop & Shipping Policies for more info ~




mermaid and fairy art nature fantasy romantic inspirational symbolist art with dragonfly butterfly cat owl art and jewelry designs for exclusive artisan gifts.