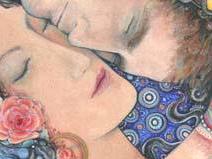 Sylph Fairy Original Fantasy Painting in Watercolor
This is an original, beautifully detailed watercolor and ink fantasy fairy painting of an elemental air spirit with many symbolic elements.

Here, she is caught between earth and air as she longs for the wings of flight. Her hair is adorned with a sunflower and spirits float amongst her dusky wings as she reaches for a beautiful black butterfly...please click and zoom on all the thumbnails to enjoy the wonderful flow and delicate detail of this painting.

Butterflies are also know in many cultures to represent the spirits of the deceased, and this painting symbolises the connection not only of earth and air, but the ethereal of this world and the next...

It is painted on smooth ivory Stonehenge ivory watercolour paper, and measures 26cm x 30cm (10 1/4 x 13 inches)

This original painting will be shipped carefully rolled up with bubble wrap, in a stiff mailing tube.



~ - Kindly be aware that computer monitors vary with colour display and the colours you see may differ slightly from the original artwork - ~
Feel free to contact me with any questions you may have regarding this original piece of artwork!



mermaid and fairy art nature fantasy romantic inspirational symbolist art with dragonfly butterfly cat owl art and jewelry designs for exclusive artisan gifts.