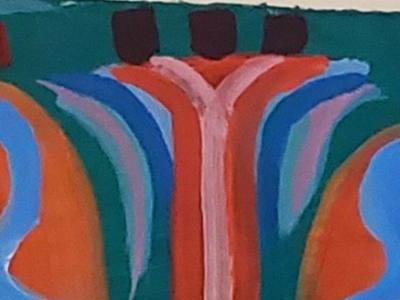 Click an image to enlarge

Lines Geoshapes Patterns

Landscape Design




I realized several years ago that many of my paintings appeared as a Design. The compositions I noticed I wanted to paint in uniform and organize the details into geometric shapes. So I began using a square flat paint brush which further produced the lines and shapes for a Design. I didn't want to give up the details completely so I experimented with them to work them into the painting. I dont have all the paintings that I created with this style. In the painting called "Winter landscape," I started with 3 sections in metallic paint and minimized the colors. I also created a positive negative design with the Spruce trees. As part of my work with Designs I wanted to use Color and experiment using the Color wheel as can be seen in "Polygons in Color," and also in "Parallel Colors." Other paintings in this Gallery also include using Monochromatic Color as well as Grayscale which involves Black, Gray and White.

I like to create patterns and also repititious geometric shapes to form a design. This gallery combines all of these ways that use lines and shapes as well as colors to form the patterns..

Be the first to

post a comment

.