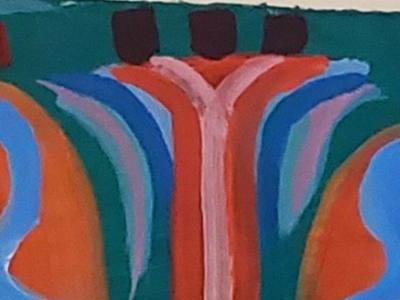 Click an image to enlarge

This gallery depicts horses that I've created with Pastel Acrylics.and

Graphite pencil. Although I have not had formal instruction on horses, I've learned a few things when studying Horse Anatomy

There are horses in specific areas that run free but it seems they have evolved into domesticated animals. There is so much History about Horses and so many variations. When running they are so fast and powerful with their manes flying. I have to admit I like to watch the horses run. I also have taken drives in rural areas to see them grazing. There is something so serene about them. Horse Art can be a serious subject matter. As part of my work with color I like to get creative with this subject matter and involve color for their form and sometimes use this in a dramatic way. Because there is so much form with a Horse's Anatomy it inspires me to find new ways to depict their shape and contour. I use color variation as well as complimentary colors. I feel that I can use my color ideas with the Horses Anatomy and be creative with it as well as involving the Lanscape. Because of this my Gallery has grown due to my inspiring ideas. I also feel it is appropriate to place Horses separately from the other Animals.

Be the first to

post a comment

.