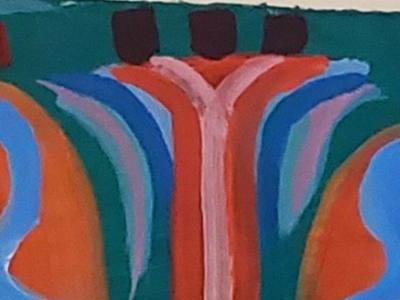 Click an image to enlarge

As I have mentioned in other places on this website Jewelry Design for me is an outlet for designing and creativity. It involves placement of colors, shapes, and surface textures and various materials as well as bead sizes. The beads can be placed in uniform or purposely mixed. I like working with many colors and shapes. The final piece can be a contrast or a blending of shades. I use quite a bit of natural wooden beads. I use the word natural to define a material formed by nature as opposed to an unfinished or unglazed wood. Wooden beads seem to add a bit of nature that I like when placed next to a synthetic bead such as glass or other manmade materials. As I have discovered there are many eye-catching effects created with glass such as pearling and marbling that I feel are nicely combined with the natural wooden beads. The materials are contrasting just as complimentary colors are. As I have mentioned I use materials and beads that are available to me and also fit into my budget. Metal is mostly used as a spacer and an accent that gives the jewelry a finished and polished look. I choose beads that will compliment my Designs because that is what is most important to me. They can be a bit intricate when using all the colors as well as all the surface textures and materials. It has become an Artform for me but with using beads on wire rather than paint on canvas. I try to coordinate with Fashion but It is not always in mind as I feel I am creating Artwork. My Jewelry is an Artistic expression and can represent many occasions.

I like to think that my jewelry is versatile and can be worn in many categoric occasions. This is of course a matter of individuality. For now I do not sell my Jewelry Designs but that could change in the future. Thank you for visiting my Jewelry Exhibit

Be the first to

post a comment

.